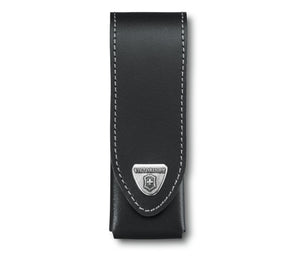 Every Victorinox Belt Pouch is designed and built to be worthy of the SwissTool or big Swiss Army Knife inside. That means rugged construction and elegant design. They're built to last, yet they go unnoticed until it's crunch time. And it also means that whichever one you choose, you can count on it to help you stay ready for anything, always.

Features:

Ideal to hold and protect your pocket knife
Belt pouch made of leather
With a belt loop and hook-and-loop fastener
Height: 35mm
Length: 120mm
Width: 47mm
Weight: 48g
Material: Leather
Colour: Black
Why not check out our large range of Swiss Army Knives along with our other outdoor knives and accessories so you're ready for any adventure!
Victorinox Leather Pouch Large Black 674.0523.3