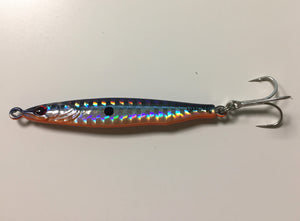 This is an extremely versatile series of metal lures. Suited to salt or freshwater, they have been developed in a range of weights and colours to meet just about any need and style.

Great for all predators as Mackerel, Pollack, Cod, Pike, Trout and Perch. Best worked at at different depth varying on the retrieve speed and working with the tip of the rod. In fresh water is particularly suitable for fishing perch.
Weight: 21g
Length: 6.7cm
Colour: Dot/Fish
Check out our range of reels and lines here to customise your fishing kit!
 Nomura Umi Plug Metal Lure 21g 6.7cm 527 Dot Fish KYLURE04