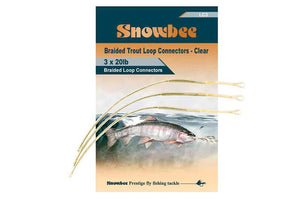 Braided Loop Connectors:
A range of braided loop connectors manufactired from quality braided nylon. The pack contains 3 finished loops, with silicone tubing sleeves, for quick & easy attachment to your fly line, providing loop-to-loop leader connection.

The elastic silicone tubing allows easy connetions to all sizes of fly lines. Our unique design features un-glued splices, which makes our loops softer and more pliable, avoiding those stiff glued sections, which cause 'hingo points'.
Just add as much, or as little super glue, as you widh to secure the loop.