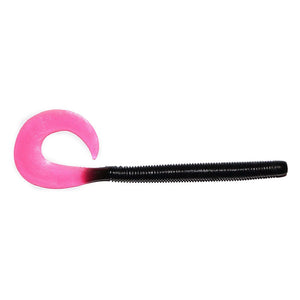 A plastic worm with an enticing curl tail that slashes and vibrates as it is retrieved through the water.
The main body of each worm is black, providing a good, natural colour for the body that any fish will recognise.
To give the worm that killer edge, a "fire tail" is added with a more pronounced colour. This tail acts as a target for any predatory fish, luring them in to take an irresistible bite as it is retrieved past them.
The main body is ribbed to increase the vibrations the worm makes through the water. These worms are ideal for fishing over wrecks and across rough ground, fished on a shad/flying collar rig, also as part of a team of two or three when incorporated into a basic, but strong paternoster rig.
Such is this rigs effectiveness it is known as "Killer Gear".
A fantastic lure for cod and pollack.

Tronixpro Fire Tail Soft Lures 15cm 5 Pack Pink TFT15