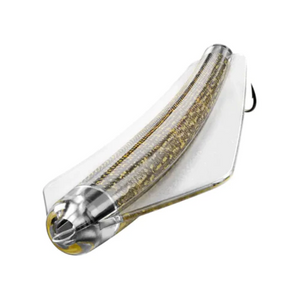 Trout anglers have long held a fascination with Tassie devil lures. the shape, the colours, and the erratic action that these lures possess have made them a firm favourite amongst Australian trout fishermen for well over forty years. However, one thing that has always been lacking with Tassie devil lures is their ability to imitate the true colour of a live baitfish. That is until now!
The new Tasmanian Devil Live Skin Lures are the first ever in the series to feature realistic live baitfish skin. The skin is taken from a high-resolution image of a real fish and then transposed onto high-end art film, which is then incorporated into the lure. This gives Tasmanian Devil Live Skin Lures an incredibly realistic and lifelike appearance, which we think trout will find irresistible.
Tassie devils are an excellent lure for trout fishing, whether you're casting or trolling. They can be worked at various speeds and depths to suit the conditions, making them one of the most effective trout lures on the Australian market. If you're looking to add a bit of extra excitement to your trout fishing this season, make sure you try out a Tasmanian Devil Live Skin Lure.
Features:
Weight: 13.5g
Live skin finish
Ideal for casting or trolling
A popular fishing lure for trout
Includes 1x Treble Hook and 1 Bead (The centre wire loop rig as shown in images is for illustration only - it is not included)
Wigston's Lures Tassie Live Skin Lure 13.5g LS06 Pike TD13/LS