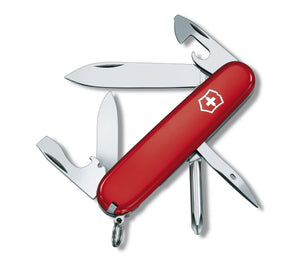 Whether you're simply moving through your day or journeying around the world, the Tinker pocket knife is the Officer's knife for those who are on the move. You never know what you'll encounter out there, but you know that you and your Tinker pocket knife will always be ready to build, hack or fix anything.
This pocket knife has 12 functions:
Large blade

Small blade

Can opener

3mm screwdriver
Bottle opener
6mm screwdriver
Wire stripper
Reamer, punch and sewing awl
Phillips screwdriver 1/2
Toothpick
Tweezers
Keyring
Dimensions:

Height: 14mm
Length: 91mm
Width: 26mm
Details:

Weight: 62g
Material: ABS/Cellidor
Blade Lockable: No
One Hand Blade: No
No. Of Features: 12
Colour: Red
Keep your Swiss Army Knife safe and quickly accessible with our range of Victorinox pouches!

Victorinox Swiss Army Knife: Tinker Red 671.4603