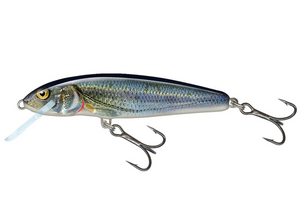 Minnow is one of the oldest lure in Salmo's range. A very gentle, vibrant action characterises the Minnow, it has already tempted thousands of predators in lakes and rivers, on all continents. With a large variety of colours it's easy to choose the exact pattern for any fishery you choose to fish.
All the standard methods of lure fishing will work with the Minnow. In rivers they can be fished upstream, downstream and across the flow, you should always vary the retrieve speed and remember to add occasional twitches.
Features:
Weight: 3g
Length: 5cm
Colour: Spirlin
Buoyancy: Floating
In the Salmo range since 1991
Through-wire construction
Polycarbonate lip
Individually Hand Tuned Tank Tested
Premium Black Nickel VMC Hooks
Check out our range of
reels
and
lines
here to customise your fishing kit!
Salmo Minnow Crankbait 5cm Floating 3g Spirlin RV-M5F-SPL