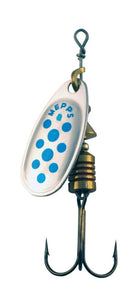 The famous Mepps Comet lures are made in France and are probably the most reliable action lures for all predatory fish. Suitable for trout, perch, pike, salmon & mullet. 
Features:
Weight: 4.5g
Hook size: 2
Colour: Silver/Blue Dot
45 degree angle of rotation
Imitates a wounded fish
The angler's favourite for clear water and fast running currents
Check out our range of reels and lines here to customise your fishing kit!
Mepps Comet Decoree Spinning Metal Lure 4.5g Size 2 Silver Blue Dot RMCD02