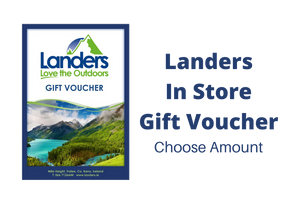 Gift Voucher for In Store Only - (Can't be spent online)
How to purchase a Landers In Store Gift Voucher
Choose amount you require.
Add to Cart.
If you would like us to add a handwritten card or message on your behalf, just add a note to your order at checkout, and we'll look after it!
Delivery Options for In Store Landers Gift Vouchers
We send Gift Vouchers to you using our courier delivery service (no delivery charges).
Gift Voucher orders received before 12 noon will  be despatched on same day.
We can send the Gift Voucher to you or we can send it directly to the recipient - just make sure to put the appropriate name and shipping address in the order. 
Other Useful Information
Our Gift Vouchers do not have an expiry date..they are always valid.
The

Gift Voucher

can be redeemed or part redeemed in store, and any balance due will be issued in the form of a new

Gift Voucher.

If you don't see the amount you require, please get in touch! 
Landers Online Gift Cards, which can be used on our online store only, can be purchased by clicking here.
If you have purchased an Instore Gift Voucher and you would like to spend it online, please get in touch and we can convert it for you.