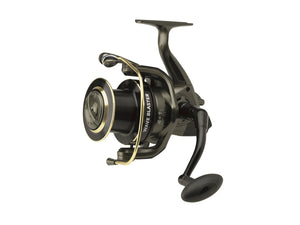 For the serious surf caster, distance matters, and the Kinetic Wave Blaster surf spinning reel delivers. It's specifically designed to maximize casting distance, without relinquishing full power and control. Both reels feature graphite composite body, counterweighted rotor, elongated aluminium spool, and extreme drag power. Line guard prevents line winding under the spool.
Features:
Reinforced graphite body
Computer balanced and counterweighted graphite rotor
Elongated high-grade CNC machine cut aluminium spool
Japanese stainless-steel ball bearings – Quick lock anti reverse
Multi disc drag system for maximum power and smoothness
Machine cut pinion gear
Stainless steel fat bail arm - Stainless steel teardrop line roller
Anodized CNC machine cut aluminium handle
Rubber power knob
Line guard prevents line winding under the spool
Check out our range of lures here and lines here to customise your fishing set up!
Kinetic Wave Blaster 8000 Front Drag Spinning Reel B111-035-009