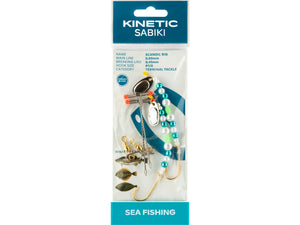 This light boat & shore fishing rig is made with two twisted wire-booms and floating beads to avoid any problems. Spinner blades attract fish from far away.
Features:
Hook size: 1/0
Colour: Pearl/Blue
2 Per Pack
Quality nylon Line
Double hook set with chemical sharpened golden hooks
Pre-rigged with twisted wire boom, spinner blade and beads
Cod/turbot/sole
Check out our range of reels and lines here to customise your fishing kit!

Kinetic Sabiki Scandic Rig #1/0 Pearl Blue 2 Pack F172-062-039