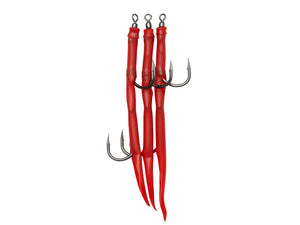 This unique and durable octopus-tandem hooks combination is extremely effective when jigging or fished with bait. Catches "everything" in all waters!
Features:
Hook size: 10/0
Colour: Red
3 Per Pack
Ultra-sharp chemical sharpened hooks
Rubber tube
Cod/pollock/coalfish
Check out our range of reels and lines here to customise your fishing kit!
Kinetic Sabiki Gummi-Makk Pro Lure #10/0 Red 3 Pack F191-005-053