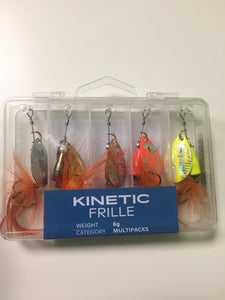 The drop shaped body combined with the feather tail makes this spinner difficult to resit for any fish. The colours are great for both trout and perch.
Features:
Weight: 6g
5 Per Pack
Lead free components
Round bend treble hook – Chemical sharpened
Transparent lure box – 5 compartments
Rainbow trout, lake trout, perch, pike
Check out our range of
reels
and
lines
here to customise your fishing kit!
Kinetic Frille Lures 6g 5 Pack E142-003-163