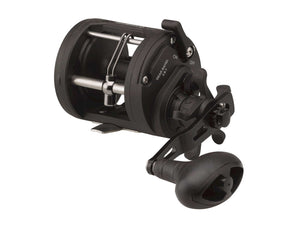 The Kinetic Fantastica level wind reel sports a light but strong one-piece graphite frame, graphite side covers and graphite spool. Built for the long haul, this reel features a durable brass main gear and brass pinion gears, one stainless steel ball bearing, a stainless-steel level wind and aluminium power handle. This reel is specifically for left hand use.

Features:
Ball bearings: 1
Graphite body
Graphite side plates
Graphite spool
Stainless steel ball bearing
Star drag system for maximum power and smoothness
Pinion gear
Stainless steel level wind
Anodized aluminium handle
Ergonomic power knob
Check out our range of lures here and lines here to customise your fishing set up!
B109-008-001 Kinetic Fantastica 30 Left Hand Reel