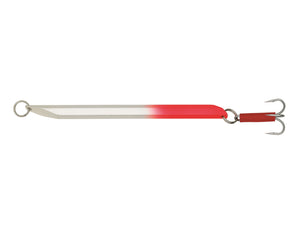 You can never get down to fast! With this in mind, we created this simple yet marvelous lure using some of the hottest and attractive colours! 
Features:
Weight: 300g
Colour: Pearl/Red
Lead free zinc
Perma steel hook
Stainless steel split ring
Fast diving and gliding action
Check out our range of
reels
and
lines
here to customise your fishing kit!
Kinetic Depth Diver Lure Pearl Red 300g E195-067-149