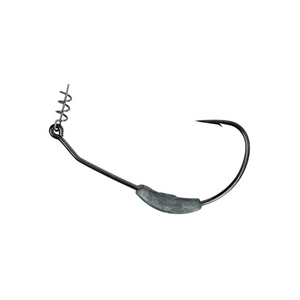 The same super strong and needle-sharp hook used for TronixPro's Twistlox hooks but with an added belly weight on the shank. This added weight helps to sink the lure into the fish feeding zone, useful for exploring more of the water column when hunting out where the fish are holding. As with the bare Twistlox, the hook features a thin pin and spiral allowing you to screw in or push in a soft plastic lure for security and to sit the lure in the optimum position for the best movement when weedless rigging.
Features:
Hook size: 4/0
Super strong and needle-sharp hooks that have been designed for soft plastic lures, especially worm/senko bait style lures as well as smaller fish/shad lures
Features a thin pin and spiral that is placed in the eye of the hook Its purpose is to enable the angler to screw in or push on a soft plastic lure for security
Twistlox hooks are ideal for weedless rigging and give the lure maximum movement
Added 3.5g belly weight to help sink soft plastic lures into the feeding zone
3 pieces per pack
Check out our range of 
reels
 

and 
lines
 

here to customise your fishing kit!
TronixPro HTO Twistlox Belly Weighted Hook Size 4/0 3 Pack 

HWTL340