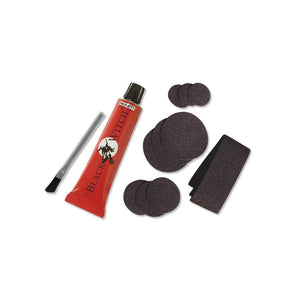 McNett Black Witch is the most popular Neoprene Adhesive glue in the world. The new toluene free Black Witch is suitable for quick (up to one hour) repairs of Neoprene rips and tears, especially where rubber is directly bonded together. Black Witch is also suitable for use on latex wrist and neck seals, etc. 

Black Witch is a black coloured, brushable, general purpose contact adhesive. It exhibits excellent adhesion to most surfaces and has good heat resistance. Bonds may be made over a wide range of open times because of its fast flash off and long open time

Kit includes:
Instructions
3 x 1" neoprene discs
3 x 1.5" neoprene discs
3 x 2" neoprene discs
1 x 12" length of neoprene tape
1 x tube of Black Witch neoprene glue
1 x glue application brush
The good adhesion to neoprene, rubber and various types of flexible plastics makes it perfect for fast repair of diving and other watersports equipment. The fast-curing time is advantageous for quick field repair on the boot or at the seaside. The consistency of the uncured material allows relatively easy application by brush. After curing, the material shows full flexibility and exhibits very good resistance to weathering, ageing, moisture and UV light.

How to Use:

Surface condition: Before use make sure that surfaces to be bonded are clean, dry and free from dust and grease.
Apply using a short, stiff brush.
Apply a thin even coat of adhesive to both surfaces.
When surfaces become 'touch dry' (i.e. adhesive is glossy and no longer transfers to the knuckles) align the bond edges and bond under maximum pressure.
McNett Black Witch Neoprene Repair Kit C-NRK