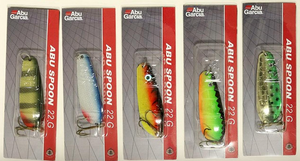 **Please specify choice of colour in order notes**

Spoon lures are great for attracting larger species in freshwater and saltwater. Because of their colourful finish, they work best in lightly stained or clear waters. Spoon lures are designed to mimic different types of small fish, so you can tailor your specific lure to the predator fish you're looking to catch.
Great for pike, bass, salmon and trout
Price for 1 lure
Weight: 22g
Colours available shown in picture below.

Check out our range of reels and lines here to customise your fishing kit!

Abu Garcia Big Spoon Metal Lure 22g Assorted Colours 1320706