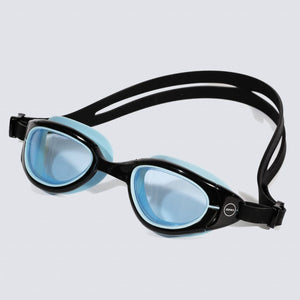 For some people choosing the right goggles is a quick and easy thing to do, for others, it can be hard to find the perfect fit, which is where the Attack goggles come in. Built to be flexible, they are designed to conform to a wide variety of face shapes and sizes. Their flexible nature doesn't stop there, with curved lenses for enhanced vision and options for Polarized or Photochromatic lenses they are ideal for both open water and pool swims.
Key Features:
Ultra-soft silicon gaskets - minimise pressure around the eyes keeping you comfortable during both open water and pool sessions.
Anti-Fog treated lenses - 

gives crystal clear vision preventing the need for mid swim demisting.

100% UVA/UVB protection.
Curved Lenses - give an excellent field of vision allowing you to carefully navigate your direction and spot any other swimmers.
Flexible soft silicon frame.
Easy adjust strap.
Swim Secure Swim Goggles Attack Black Tinted Blue Lens SA20GOGAT106