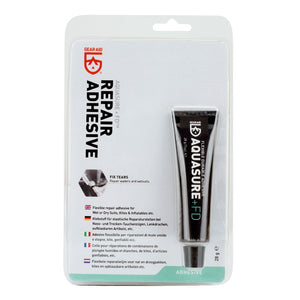 Flexible, durable repair adhesive glue for waders, wetsuits, dry suits, kites, inflatables and more!

Repair all types of gear failures with Aquasure FD, a clear, waterproof urethane adhesive. After it cures, it becomes a flexible, rubber glue that is ideal for fixing outdoor gear that's in constant motion. It also offers excellent abrasion resistance. So, when fishing waders rip on the river or a wetsuit tears while diving through prickly corals, don't throw it away. Fix it with Aquasure FD. It's also useful as a seam sealer. Don't let rips, tears, and holes stop you. Patch it up with the all-purpose Aquasure FD and stay dry.

Top tip: For added traction on footwear, sprinkle sand on uncured Aquasure 1/2 hour after applying.

Features:
Durable– Tough urethane repair adhesive bonds permanently to surfaces and dries clear
Flexible – Cures to a stretchy rubber that bends with neoprene and other elastic gear
Waterproof – Provides a water-tight seal that won't peel or crack over time
Abrasion Resistant – Keeps gear looking good by withstanding scrapes and scratches
All-purpose – Bonds to all types of outdoor fabrics including: neoprene, rubber, nylon, canvas and vinyl
Material: Thermoset urethane
Colour: Clear
Adheres To: neoprene, rubber, nylon, canvas, vinyl
Cure Time: 8-12 hours (2 hours with cure accelerator)
Application Temperature: 15° to 38°C (above 40% relative humidity)
Use Temperature: -30° to 82°C
Storage: store in bag in freezer
Made in USA
How to - Neoprene Repair:
Clean damaged area with Cotol-240™ Cure Accelerator/Precleaner or solvent (paint thinner, nail polish remover or similar). Trim loose threads. Non-fabric surfaces should be roughened with sandpaper, then cleaned. Apply Aquasure to surfaces directly from tube or with knife or flat stick. Keep repair level overnight. Avoid contact with other surfaces. Most repairs reach full strength overnight (10–14 hours). Allow longer for thickest repairs. For fastest cure (2 hours or less), mix in Cotol-240.

Holes and Tears:
Create backing with removable tape. Fill void and 1/4" beyond edge with Aquasure. Remove tape after full cure.

Seams:
Apply 1/16" thick bead overlapping seams edges by at least 1/4". Apply with slight pressure to saturate fabric surfaces.

High Wear Areas:
Apply thin coat with knife for flexible abrasion resistance.

WARNING: FULLY CURED AQUASURE IS SLIPPERY WHEN WET.

Clean Up:
To remove Aquasure from hands, buff with cloth soaked in paint thinner, nail polish remover or 99% isopropyl alcohol.

Storage:
Advance contents to tube neck. Wipe clean and cap. Keep in cool, dry place; for extended life, place in freezer. To thaw or for easier-flowing contents, soak tube in warm water for 15 minutes.
McNett Aquasure +FD Flexible Durable Repair Adhesive 28g 1oz MC10116