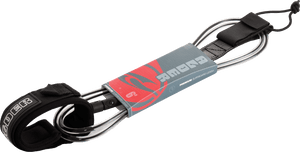 Surfboard leashes are cords attached to the deck of a surfboard, down near the tail. It prevents the surfboard from being swept away by waves and stops runaway surfboards from hitting other surfers and swimmers.
If you fall while riding a wave, the surfboard will not be swept away, allowing you to quickly recover your surfboard and return to the take-off zone.
Features:
Length: 6ft
Colour: Black
Padded Neoprene Ankle Strap
Robust Rotating Swivel
Quick release Mechanism
Quality Strong Urethane
Key Pocket
Rail Saver
You want to pick a leash the same length as your board or the next size up if your board is in between sizes.
Whether it's a swim cap, changing robe or tow float you're in need of -
check out our wetsuit and swimming accessories here!
Alder 6ft Ultra Surf Leash Black 

ASL-6FT