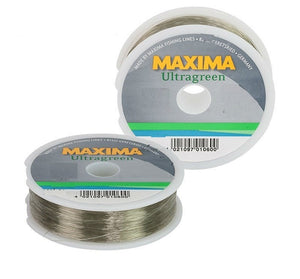 Maxima Ultragreen is Maxima's original green monofilament. 
This line becomes virtually invisible under water particularly in freshwater and inshore coastal waters. Ultragreen is also soft and limp yet retains MAXIMAs legendary tough high-durability finish for excellent abrasion resistance.
Ultragreen is the best all-round line for a variety of freshwater and general saltwater fishing spooling and casting well on spinning, bait casting and larger conventional reels. Ultragreen`s invisibility under water also makes it ideal for leader material.

Features:

Exceptionally Strong by Test
Superior Knot Strength
All Species and Water Conditions
Extremely Tough Finish
Breaking Strain: 3lb
Length: 50m
Diameter: 0.15mm
Check out our range of lures and reels to customise your fishing kit!
Maxima Ultragreen Monofilament Fishing Line 3lb 50m MXU503