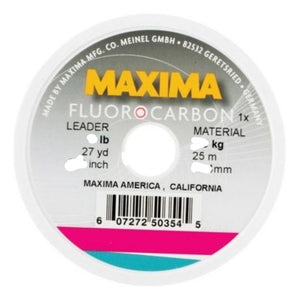 A low refractive material with non-flash components makes Maxima Fluorocarbon totally invisible to fish in the water. A new polymer structure enhances the sensitivity of the line and gives Maxima extraordinary castability. The special finish is additionally treated with a UV-protection extending the line's useful life. Like all Maxima lines, Maxima Fluorocarbon is exceptionally strong and reliable under all conditions.

Features:

100% genuine fluorocarbon, a polymer blended with fluorine and carbon

Offers total invisibility, a proprietary and new blend of low refractive material with non-flash components, the same refractive index as water

Improves softness due to unique polymer structure, noticeably more supple than comparable fluorocarbons

High durability finish offers abrasion resistance and high knot strength

Breaking strain: 15lb/7kg
Length: 25m/27yds
Diameter: 0.34mm/0.013in
Colour: White
Check out our range of lures and reels to customise your fishing kit!
Maxima Fluorocarbon Fishing Line 15lb 25m MXFL2515