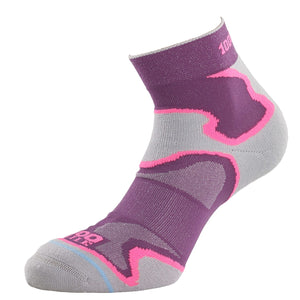 The Fusion Anklet Sock combines the comfort and protection that comes from a padded sock with the 1000 Mile Double Layer System for reduced friction and blister protection.
The padded zone on the heel, not only helps to protect the Achilles tendon but has been extended around the ankle to the front to protect the foot from any discomfort caused by footwear.

Specifically shaped padding on the toe and ball of foot areas cover known trouble spots for runners and walkers alike, giving extra protection whatever the activity. Making these the ultimate comfort in padded running socks.
This sock is knitted to an ankle length for those who prefer a shorter sock.

Blister-Free Guarantee – Double layer construction helps to eliminate friction between the foot and shoe. This reduced wear and helps to prevent blisters.

Features:
Ventilation zones for added breathability
Padded Achilles tendon protection
Arch bracing for additional support and custom fit
Padded zones on the heel, ankle and toe areas
Tactel inner layer wicks away perspiration to keep feet dry and cool
Knitted to ankle length for those who prefer a shorter sock
What is Tactel®…?
Soft, light and surprisingly strong. A dynamic, speciality fibre, Tactel® garments are soft, supple, smooth, breathable and lightweight. According to testing Tactel® fibre is at least twice as soft and 20% lighter than most other fibres. It also dries 8 times faster than cotton. With its soft feel, moisture wicking and quick drying properties this yarn is the perfect yarn to line our socks helping to keep the feet cool and dry during activity.
Composition:
Outer layer - 98% nylon, 2% Lycra®
Inner layer - 100% Tactel®

Care Instructions:

Machine wash 30 degrees
Non-bio detergent
No fabric softener
No bleach
Sizing:
Choose the same size sock as your foot size. If you have narrow feet or are on the border between sizes, you should go down a size. The sock should be a snug fit with no wrinkles.
Pull the sock on carefully to ensure fitted heel and toe box sit correctly on the foot.
1000 Mile Women's Fusion Anklet Socks Purple Grey 2026-W