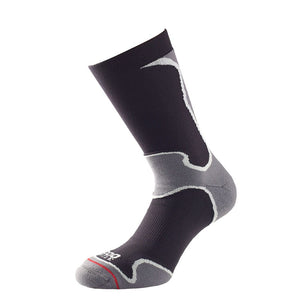 The 1000 Mile Fusion Sport Sock was the first running sock of it's kind (double layered AND padded) and it's proven to be one of 1000 Mile's most popular socks in the range since it's conception over 5 years ago.
Conventional sock wisdom dictates that you can either have padding for protection and comfort, or two layers for reduced friction. Padded socks are thick, double layer socks are thin.

The 1000 Mile Fusion Sock breaks that mold with innovative design and material technology to provide a sock that offers everything.

Blister-Free Guarantee - Double layer construction helps to eliminate friction between the foot and shoe, reducing wear and helping to prevent blisters.

Features:
Full padded Achilles tendon protection – the first sock to offer you this!
Arch bracing gives additional support
Extra padding for toe, ball and heel zones
Double layer construction eliminates friction between the foot and shoe, reducing wear and preventing blisters
Tactel® inner layer wicks away perspiration to keep feet dry and cool
Black colour option designed to be higher in the leg for winter running
What is Tactel®…?
Soft, light and surprisingly strong. A dynamic, specialty fibre, Tactel® garments are soft, supple, smooth, breathable and lightweight. According to testing Tactel® fibre is at least twice as soft and 20% lighter than most other fibres. It also dries 8 times faster than cotton. With its soft feel, moisture wicking and quick drying properties this yarn is the perfect yarn to line our socks helping to keep the feet cool and dry during activity.

Care instructions:

Machine wash cool 30 degrees
Non-bio detergent
No fabric softener
No bleach
Do not tumble dry
Do not dry clean
Sizing:
Choose the same size sock as your foot size. If you have narrow feet or are on the border between sizes, you should go down a size. The sock should be a snug fit with no wrinkles.
Pull the sock on carefully to ensure fitted heel and toe box sit correctly on the foot.
1000 Mile Women's Fusion Antiblister Tactel® Double Layer Socks Black 2029-W