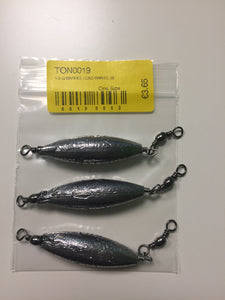 Swivel weights are plain weights that have a swivel built into them.
They are commonly used in freshwater fishing but in larger sizes they can also be used in sea fishing. These weights can  roll around on the seabed to find gullies and other fish-holding features.
The swivel eliminates line twist effecting the main line as the weight rolls around.
Swivel weights are most common in lighter weights as they are mostly used by anglers using bass rods to fish in places where there is a low level of tidal flow, such as estuaries, harbours and sheltered bays and coves.

Features:

Barrel shaped weight
Swivel attached
Weight: 1.5oz / 42.5g
3 Pack
Barrel Swivel Lead Weights 1.5oz 3 Pack TON0019