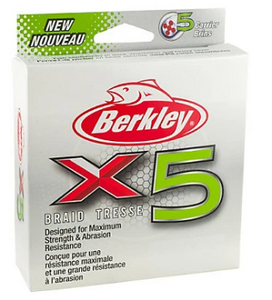 Berkley® x5 Braid is a conventional braid using 100% PE fibers. 4-stranded braids are popular and Berkley® x5 takes it to another level by adding an additional strand making x5 strong, reliable, and built to cut through weeds and vegetation.

Features:

Designed for optimal strength and abrasion resistance
Fish confidently in thick vegetation and heavy cover
Diameter: 0.14mm/0.006in
Length: 328yd/300m
Breaking strain: 15lb/14.2kg
Colour: Low-Vis Green
Check out our range of lures and reels to customise your fishing kit!
Berkley X5 Braided Line 15lb 0.14mm 300m Low Visibility Green 1486725