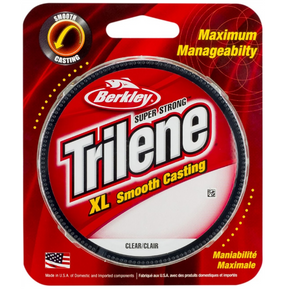 The Best Trilene XL Ever! America's Best Selling Monofilament now becomes a bestseller in Europe it´s Stronger and Smoother than ever! Improved formula has 20% greater knot strength and over 50% greater wet strength! 20% more flexible -- enhancing the Maximum Manageability that has made Trilene XL® famous. SMOOTH CASTING FOR MAXIMUM MANAGEABILITY.
Features:
Length: 330yds/301m
Breaking strain: 8lbs/3.6kg
Diameter:

0.010in/0.25mm

Super Limp
Extremely smooth
Maximum manageability
For mainline and Hook length or leader material
Check out our range of lures and reels to customise your fishing kit!
Berkley Trilene XL Monofilament Line 8lb 0.25mm 301m Clear 1279671