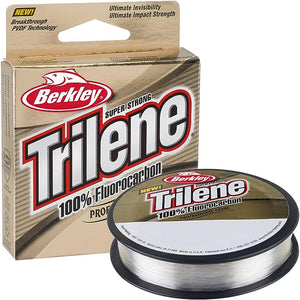 Berkley® Trilene® 100% Fluorocarbon Leader Material, Professional Grade. Finally, a 100% fluorocarbon leader material good enough to be called Trilene®! This professional-grade formula provides incredible knot strength, excellent abrasion resistance and high impact strength.
Features:
Length: 110yds/100m
Colour: Clear
Diameter: 0.011in/0.27mm
Breaking strain: 8lbs/3.6kg
Optimal Impact Strength: This proven 100% PVDF clear fishing line formula provides exceptional shock and knot strength along with abrasion resistance to give you an upper hand in your battles with big fish.
High Strength Per Diameter Fluorocarbon
Completely Clear: Target the wariest fish with a fishing line that is nearly invisible underwater. The fluorocarbon construction has a similar refractive index to water making it almost impossible for fish to detect.
Check out our range of
lures
 

and 
reels
 

to customise your fishing kit!
Berkley Trilene 100% Fluorocarbon Line 8lb 100m 0.27mm Clear

1135071