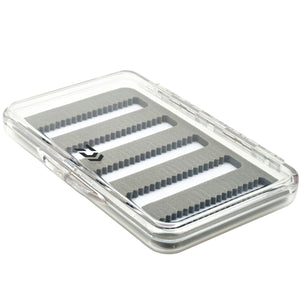 The Daiwa Slim View Fly Boxes add no bulk or weight to your pockets with their ultra sleek and slim design and lightweight construction.
Built with a solid and strong ABS plastic construction, this gives durability and helps the box stay light in weight. The clear design allows you to easily see into the box so you can see exactly what flies you've got with you on your fishing trip.
Each box can hold plenty of flies and is fitted with high quality foam, arranged in various ways to hold different sizes of flies. These fly boxes is secured using a plastic, dual clip lock that will click open and close using a small amount of pressure from your thumbs.
Features:
Dimensions: 8.5cm x 13cm x 1.5cm
Clear fly box
Strong, secure hold - high quality foam
See your flies easily
Light in weight, convenient to carry
Plastic, dual clip lock
Check out our range of flies and fly fishing accessories for all your fly fishing needs!
Daiwa Slim View Fly Box 8.5cm x 13cm x 1.5cm Clear SVFB1