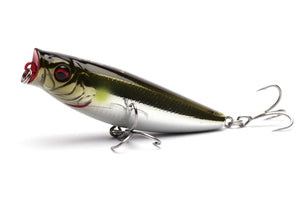 Based on 3D scanning of young sardines.

This is not a popper, nor is it a walker, it's both types of lure in one.

It combines the advantages of both types of lures.

Excellent surface work like walk the dog, and strong splashes during pull-ups with the tip lowered.

By lifting the rod tip a little, the Pop Walker will start to slide along the surface with a distinct splash.

Compact design for easy long casts!

Excellent surface action in both fresh and salt water!