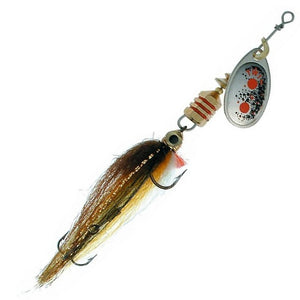 The Mepps Aglia Streamer combines the vibration and flash of the classic Mepps Aglia blade with the subtle and lifelike swimming action of a hand-tied streamer. It makes the ideal presentation for the stream, river or lake angler fishing for trout, salmon or grayling; or the fisherman matching the forage for bass, panfish or walleye. Aglia Streamers will match any fishing situation.
These lures, designed with a flexible 'axle,' combine the very subtle swimming action of a streamer fly with the flash of the Aglia. The streamer is specially tied for use with a spinning and vibrating action, and it is tied on a flexible axle with a front single hook and a trailer treble hook for a lethal hook up rate.
The streamer body is made up of long fibres that display more than ten different colours, including target signals like eyes, gillrakes, lateral lines, and micro-flashes.
Details:
Weight: 4.7g
Colour: Silver
Hook size: 2
Check out our range of reels and lines here customise your fishing kit!
Mepps Aglia TW Streamer Spinning Metal Lure 4.7g Size 2 Silver

L4201