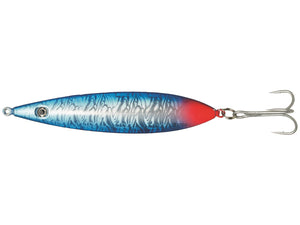 Kinetic Terminator is a non-led herring imitation with a tremendous holographic body, high quality splitrings and hooks. Hot colours, lively actions and scared eyes. This bad guy screams "fast food" to all hungry predators.
Features:
Weight: 150g
Colour: Blue/Silver
Lead free zinc
3D holographic eyes
Perma steel hook
Stainless steel split ring
Lively and gliding action
Check out our range of reels and lines here to customise your fishing kit!
Kinetic Terminator Lure 150g Blue Silver E186-122-145