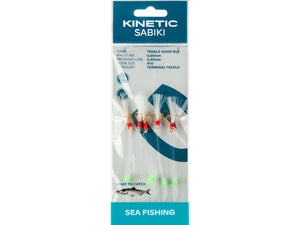 Small treble hooks have proven to sometimes be the best solution when fishing for herring. Apart from good hooking statistics, these rigs also last longer.
Features:
Hook size: 10
Colour: White Flash
5 Per Pack
Quality nylon Line
Golden treble chemical sharpened hook
Flash hair
Herring
Check out our range of reels and lines here to customise your fishing kit!
Kinetic Sabiki Treble Hook Rig #10 White Flash 5 Pack F109-240-007