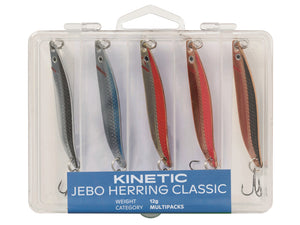 Herring imitation that has proven to be one of the most versatile lure designs ever made. This spoon combined with these colours will catch predators all over the world in all waters. Extremely popular!
Features:
Weight: 12g
5 Per Pack
Lead free solid plate
3D holographic eye
Stainless steel split ring
Round bend treble hook – Chemical sharpened
Transparent lure box – 5 compartments
Seatrout, pollack, salmon, cod, mackerel
Check out our range of reels and lines here to customise your fishing kit!
Kinetic Jebo Herring Classic Metal Lures 12g 5 Pieces E131-007-163