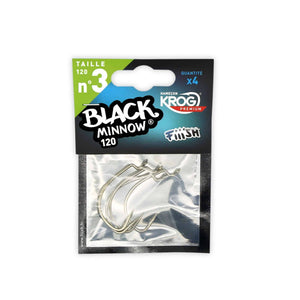 VMC Krog Hooks as used on the Fiiish Black Minnow. These hooks work perfectly with the combination of the Fiiish Black Minnow body and the unique head with all three parts contributing to the very articulated and lifelike movement that this lure is famous for.
Designed to be used with Fiiish Heads and Black Minnow bodies but these hooks can also be used with other soft plastics.
Premium upgraded VMC Krog Hooks suitable for all of the Black Minnow variants.
4 Hooks per pack
Size: 120mm
Fiiish Black Minnow 120 Krog VMC Hooks 4 Pack BM077