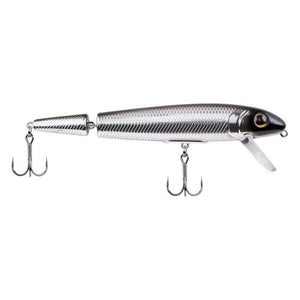 An extremely versatile lure, the Berkley® Surge Shad Jointed provides an exaggerated wobbling action that is ideal for fish actively feeding on the surface or those that are suspended. It's bill design has been tailored for multiple presentations. Simply reel it, twitch it, or aggressively jerk it – this louder and more aggressive version of the Surge Shad excels in a variety of situations.
Scott Suggs Pro Tip: Best suited for muddier water or windy conditions. Works well in deep or shallow water. Simply cast and retrieve for an attractive wobbling action.
Features:
Jointed tail for an exaggerated wobbling action
Multi-purpose bill design
Aggressive sound for added attraction
Integrated FlashDisc™ improves tracking stability and accuracy and gives the bait true balsa-like action
Equipped with sharp Fusion19™ hooks
Check out our range of
reels
and
lines
here to customise your fishing kit!
Berkley Surge Shad Jointed Lure Black Chrome 1487233