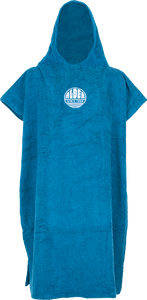 The Alder Youth Poncho changing robe is made from a 100% cotton toweling which is super soft and supremely comfortable.

These ponchos make getting in and out of your wetsuit and swimwear a cinch without any of the embarrassing mishaps a simple wrapped towel can cause.
Ideal when you want a lighter alternative to a dry robe!
One size/Youth

Shoulder to hem: 97cm

100% cotton
400gsm (terry)
Whether it's a swim cap, boots or tow float you're in need of - check out our wetsuit and swimming accessories here!
PT-Y Alder Youth Terry Towelling Changing Robe Poncho Navy