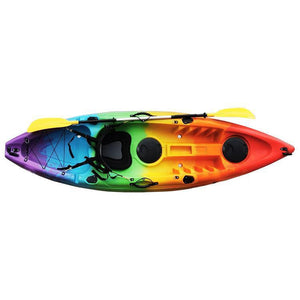 **Click & Collect only on this item...delivery not available**
9ft Sea Kayak made from linear low-density polyethylene. Perfect for rivers and open sea water.
Package includes: 
1 x Kayak
1 x twin pole or single pole paddle
1 x deluxe foam padded seat with back bag
1 x buoyancy aid
Accessories included on the kayak:
4 x insert fishing rod holders
2 x Waterproof 8 inches locking hatches with inner bags - keep valuables safe & dry
2 x Side round carrying handles
1 x back drain plug
Built in foot well
Deck bungee cords
Size: 2.75 x .088 x 0.32 m
Weight: 22.5 kg
Capacity Weight: 150kg

Keep yourself warm and ready to take a dip with our range of wetsuits - perfect for kayaking!
9ft Kayak Package Rainbow KAYAK9FTPACKAGE