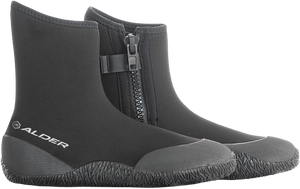 The Alder Edge Zipped 5mm wetsuit boots.

These versatile wetsuit bootees are ideal for a multitude of watersports; Coasteering, Windsurfing, Paddle boarding, Kayaking, Surfing and anything else you can think of.

Zipped wetsuit bootees are much easier to get in and out of and often appeal to larger kids and teens who struggle to pull regular surfing shoes on.

Features:

5mm Neoprene
Glued and Blindstitched Seams
Reinforced Toe
Reinforced Heel
V-Wedge Zip entry
If you ever have a hole or tear in your wetsuit, neoprene gloves, hood or socks - fix it with the McNett Black Witch Neoprene Repair kit here.
Alder Edge Zipped Neoprene Swim Watersports Boots 5mm WAFZBA